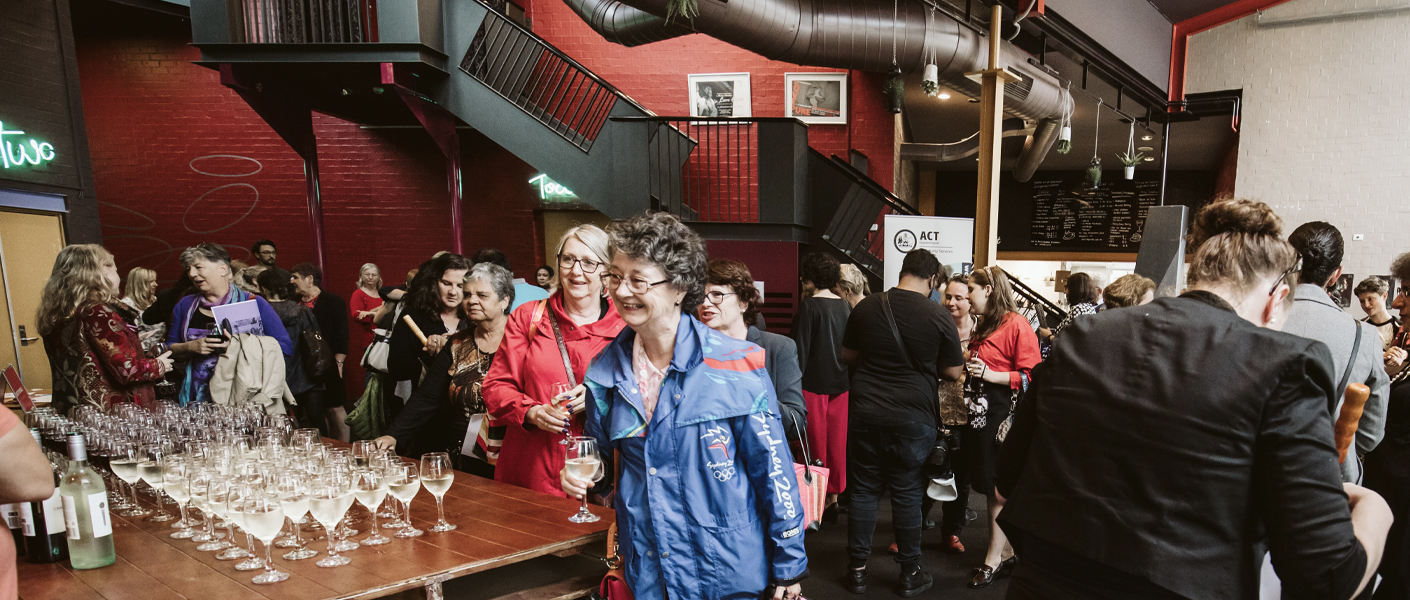 You are here
COVID-19 UPDATE

14/12/2022
With COVID 19 restrictions being lifted The Street shows are now being sold at 100% Capacity.
As physical distancing will not be possible, patrons who feel uncomfortable may wish to reconsider their attendance.
We will be monitoring announcements from the ACT Government and will update you if anything changes.
Refer to ACT Health COVID-19 website for the most up to date information on COVID-19.
Be careful. Stay Safe.
The Street x
The Street - Venue Safety
A range of public health, hygiene and physical distancing measures are being put in place to ensure the safety of our visitors, staff and stakeholders:
Regularly cleaning and sanitising our venues and publicly accessible areas with approved disinfectant products throughout the day.

We encourage physical distancing where possible.

Hand sanitiser stations are around our spaces and you can also maintain handwashing in bathrooms.
What should I do before I visit or if I feel unwell?
We ask that you and each member of your booking party make a reasonable assessment of your health status before attending our venue or the event. If you, or someone you have been in contact with, are displaying symptoms of COVID-19 please contact us at foh@thestreet.org.au.
If you have any of the following COVID-19 symptoms, please do not attend The Street Theatre site:
Fever

Chills or sweats

Cough

Sore throat

Shortness of breath

Runny nose

Loss of sense of smell
For more information go to https://www.covid19.act.gov.au/
If you are concerned about your symptoms, please contact your doctor or the coronavirus (COVID-19) hotline on 1800 020 080.
Go to for advice on testing https://www.covid19.act.gov.au/stay-safe-and-healthy/symptoms-and-getting-tested#Respiratory-assessment-clinic-locations.
What am I required to do when I visit?
We encourage all visitors to practise physical distancing where possible.

Keep 1.5 metres away from other people where possible, in corridors, bathrooms, and all interior spaces.

When waiting in line or walking through our buildings, be patient and give others space so they can give you yours – be responsible for keeping your distance.

Make use of hand sanitisers and wash your hands frequently while on site.
Will I be required to wear a mask if I come to The Street Theatre
Masks are not mandatory at indoor live performance venues. Should you require a mask, one can be picked up at the box office.
We do request that you maintain appropriate physical distancing and follow the health and safety recommendations of government health authorities.
_______________________________________________________________________________________________________________________________________________________________________________________
6 April 2020
Dear Street family
There has never been a month like this one.
Every day a moveable feast
and now our 2020
doesn't look like anything like the one we'd mapped out.
We closed our doors as the COVID-19 situation accelerated and spent the last three weeks working with our artists and companies to address the coming months.  Front of House have put in a mighty effort getting in touch with those of you holding tickets and we thank you for your help in this endeavour.  Like each of you, we are working as fast as we can to fully grasp the situation now and into the future. We're very grateful for your messages of support. And likewise our thoughts are with each of you, your families and loved ones.
Navigating unchartered territory we are exploring the many ways to stay connected to you. We're still being creative, we believe artists can play a vital role in how this story unfolds, and we're planning for when our stages will have performers on them again.
So we'll come to you soon. We ask that you stick with our performing arts sector and show your support to those artists, companies and organisations that are an essential part of your community
Please stay in touch and keep an eye on all our social channels.
Be kind, stay well, and take care of yourselves.
Your Street xx