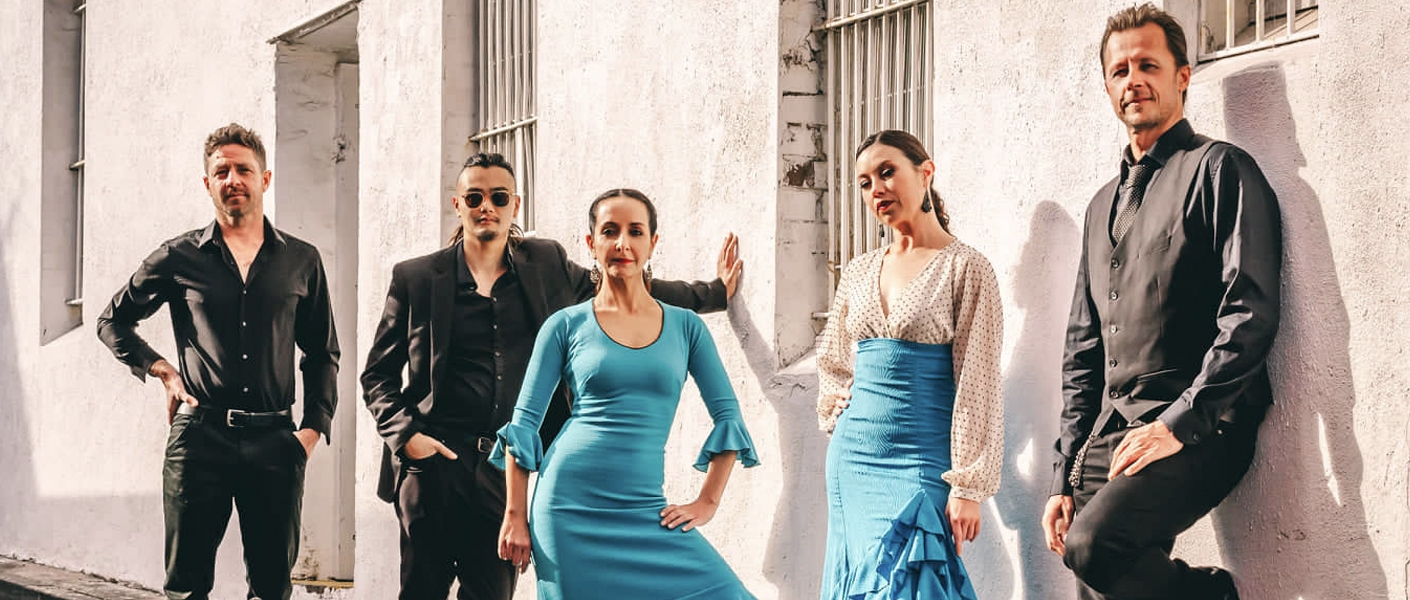 You are here
Live
Bandaluzia Flamenco
Led by ARIA nominated Flamenco guitarist DAMIAN WRIGHT BANDALUZIA will present a spectacular new show that showcases contemporary flamenco dance and music whilst displaying the essential characteristics of the flamenco tradition.
"The perennially popular Bandaluzia is firmly established as one of the most enjoyable and exciting exponents of modern flamenco...Their 2020 fringe show sees them at the top of their games.... A virtuoso display, rapturously received." 5 stars. Peter Burden, The Advertiser, Adelaide. 2020
BANDALUZIA are celebrated for their powerful performances, unique sound and explosive displays of dazzling musicianship and virtuosity. BANDALUZIA features Dance Australia Magazine's "Most Outstanding Dancer of 2013" and co- winner of "Best Dance Show" at The Adelaide Fringe 2014 JESSICA STATHAM (flamenco dance), ROSALIE COCCHIARO(flamenco dance) who, living in Madrid for 10 years, has performed in many of Madrid's most premier Tablaos (flamenco venues),outstanding percussionist JAMES HAUPTMANN (James Morrison, Vince Jones, Bluejuice) & violinist YUHKI MAYNE (Tasmanian Symphony Orchestra, Victoria Opera and the Opera Australia Orchestra). Bandaluzia are also highly revered for their ability to mix elements of other genres into their performances, whether being the rich harmonies of Jazz, the exotic melodies of East Asia or the infectious rhythms of South America. An experience that ignites the senses with the grace of Flamenco.
"Bandaluzia is winning high praise for its unique Australian interpretation of the powerful music and dance form…. with their thrilling blend of passion and virtuosity" Gabrielle Wilder , SMH
ALBUM OF THE WEEK "The music's flamenco core never wavers. Damian Wright's glorious guitar playing is the spine, if you will, while his compositions allow other instruments to sing their own songs, like willowy limbs able to dance independently because of the spine's solidity... a fine addition to Wright's impressive catalogue." JOHN SHAND, SMH 2020
Street One | Reserved | With COVID 19 restrictions being lifted Street One is now being sold at 100% Capacity.
As physical distancing will not be possible, patrons who feel uncomfortable may wish to reconsider their attendance.
As of 6pm Friday 25 February masks are not mandatory at indoor live performance venues. Should you require a mask, one can be picked up at the box office.
Click here for more information on COVID 19 venue safety.
More information
The Street Presents 
Bandaluzia Flamenco 
Saturday 2 April 7:30pm
Tickets
Standard: $37.00
Concession: $34.00 
Group 4 +: $32.00 
Student: $28.00