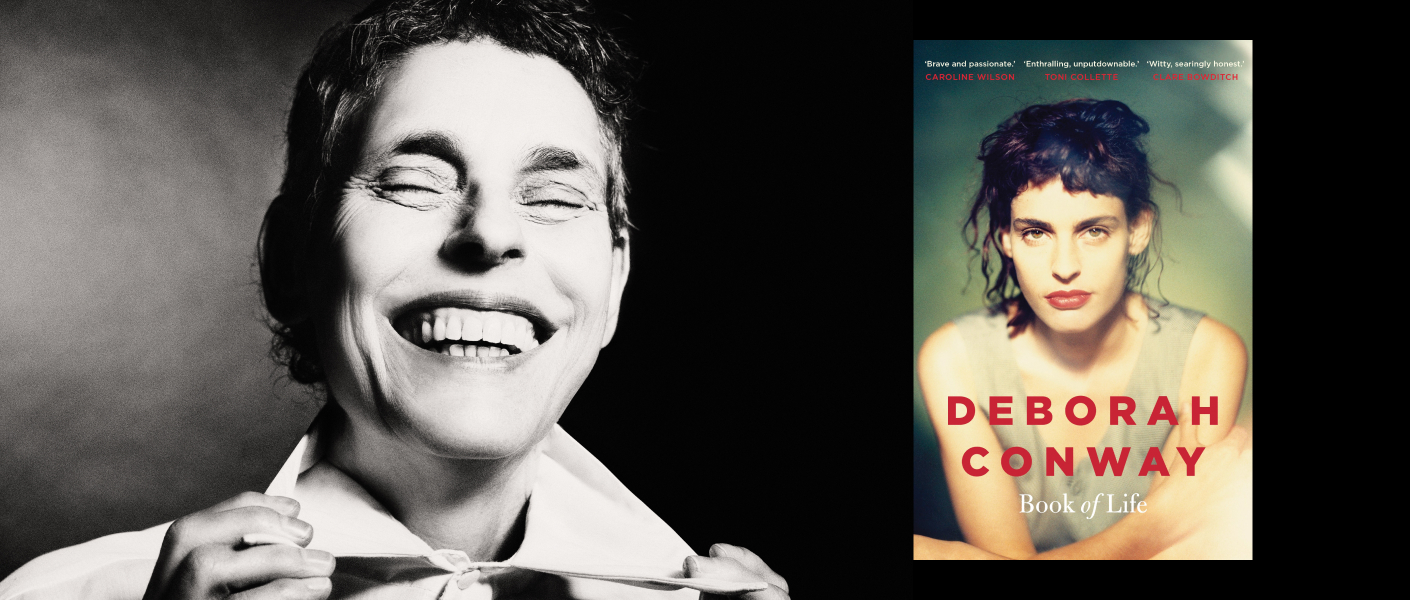 You are here
Live
Deborah Conway In Conversation
Deborah Conway, Australian singer – songwriter, writer, guitarist, actor & record producer will be in conversation with Alex Sloan discussing her new book 'Deborah Conway: Book Of Life' - Allen & Unwin.
"A no-holds-barred memoir that charts the rise and fall - and rise - of one of Australia's most iconic music performers." ****
You think you know Deborah Conway? You think seeing her scowling and striding and smouldering in her music videos over the years means you know who Deborah Conway is? She figures you probably don't know the half of it. 
If you have listened to any of Deborah's iconic songs and were curious about their origins; if you ever wondered what happened to that chick who covered herself in Nutella and was photographed shovelling cream cakes into her mouth; if you gave a nanosecond's thought to whose bare arse adorned the giant billboard ads for jeans in the 1980s and how much someone got paid to do that; if you liked Tracy Mann's vocals in Sweet and Sour but asked yourself, 'did she really sing them?'; if you thought Running On Empty was a classic before it became a cult phenomenon and need behind-the-scenes gossip, now's your chance to find out all this and so much more.
Conway pulls back the curtain on the fevered world of 1980s post-punk and the spectacular rise and fall and rise of one of the more obstreperous women in Australia's music industry, a woman who has straddled the high arts and the low without losing her footing or her mind. A woman who said no to the system and whose fierce independence has seen her produce her best work.
Welcome to the good, the bad and the ugly of an extraordinary life from the vantage point of a music insider (and outsider) with a deep need to tell the truth about it all. 
Alex Sloan - AM has been a journalist for over 30 years, including as a long-time broadcaster with the ABC. In 2017 Alex was named Canberra Citizen of the Year. She was made a Member of the Order of Australia (AM) in 2019 for her significant service to the community, and to the broadcast media as a radio presenter. Alex is deputy chair of The Australia Institute, a director of The Winston Churchill Memorial Trust and was previously deputy chair of Marion Writers Centre
• 'Candid and revealing, witty, wise and full of wonder.' Brian Nankervis 
• 'A witty, searingly honest testimony of what it really took to become one of Australia's most beloved storytellers.' Clare Bowditch 
 
Street One | Reserved | Duration 60 minutes
Click here for information on COVID 19 venue safety.
More information
The Street Theatre in association with Harry Hartog Present 
Deborah Conway
In Conversation 
Wednesday 11 October, 6pm
Tickets: This is a free event but bookings are essential
Deborah Conway: Book of Life will be available to purchase before and after the event in The Street Theatre Foyer.
The As You like it Café bar will be open for drinks pre & post conversation.
Pre-event book signings will be available from 5.30pm and available after the event.