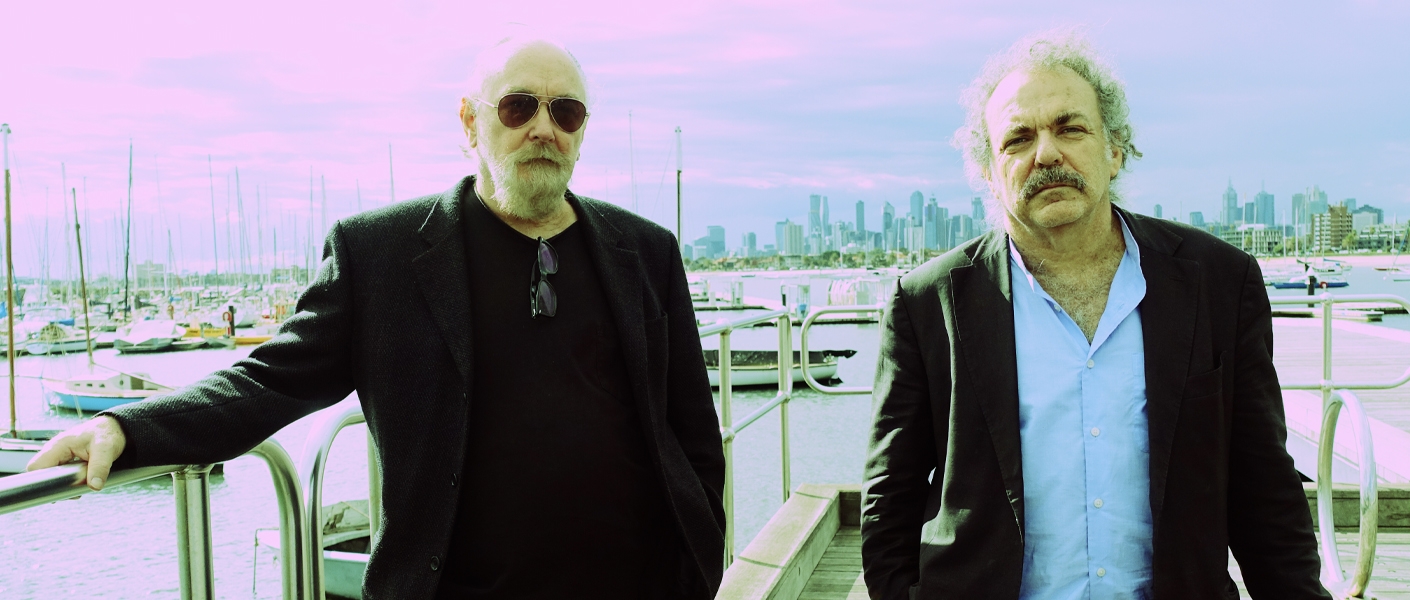 You are here
Live
Ed Kuepper With Jim White
… and so our heroes return; having wowed audiences with their take on 45 years worth of Kuepper catalogue Ed Kuepper 'n Jim White return to finish what they began back in May '21 and before the world went topsy turvy (again).
Kuepper, of course, is the co-founder of '70's proto-punks The Saints, chief architect of the uncompromising Laughing Clowns and The Aints! and master songsmith over some 15+ solo albums, while White is the brilliant drummer of renowned instrumental trio Dirty Three, partner in the genre-defying Xylouris White and disciple of all things Ed. 
"...both Kuepper and White standing by the end of the righteous and powerful performance and seemingly as engrossed in the music as the adoring, sold out throng before them. It's a masterful display by this Brisbane legend and his new musical compatriot, long may Ed's local reign over us continue." - Rhythms
"After 90 minutes of watching their linchpins play and improvise together, it was easy to understand why geographical borders mean nothing to music this transcendent." - AFR
Coinciding with the tour(s) has been a trio of retrospective releases from Kuepper including a first ever solo singles collection, a handpicked best of from Kuepper post-Saints outfit Laughing Clowns and a live release from Ed's very own Saints tribute The Aints!
"Across a rich career that stretches back to the first half of the 1970s, and spans such bands as The Saints, Laughing Clowns, The Aints! and countless solo projects, Kuepper has had a singular ability to reinvent himself and to reinvestigate his own back catalogue from new perspectives." - SMH
"I like how Ed Kuepper - like Lou Reed or Bob Dylan - doesn't want to replay the hits as was and at the same time doesn't pretend to not have a  past nor a future. In working with the musicians they play with, they revisit their material in new and old ways as well as creating new material and its not a binary problem, an ethic that seems relevant to all things to me." - Jim White 
Facebook: Ed Kuepper Music 
Instagram: Ed Kuepper
Twitter: Ed Kuepper
Website: https://edkuepper.com/
Street One | Reserved | With COVID 19 restrictions being lifted Street One is now being sold at 100% Capacity.
As physical distancing will not be possible, patrons who feel uncomfortable may wish to reconsider their attendance.
As of 6pm Friday 25 February masks are not mandatory at indoor live performance venues. Should you require a mask, one can be picked up at the box office.
Click here for more information on COVID 19 venue safety.
More information
The Street Presents 
Ed Kuepper With Jim White 
Thursday 21 April 8pm
Tickets: $50