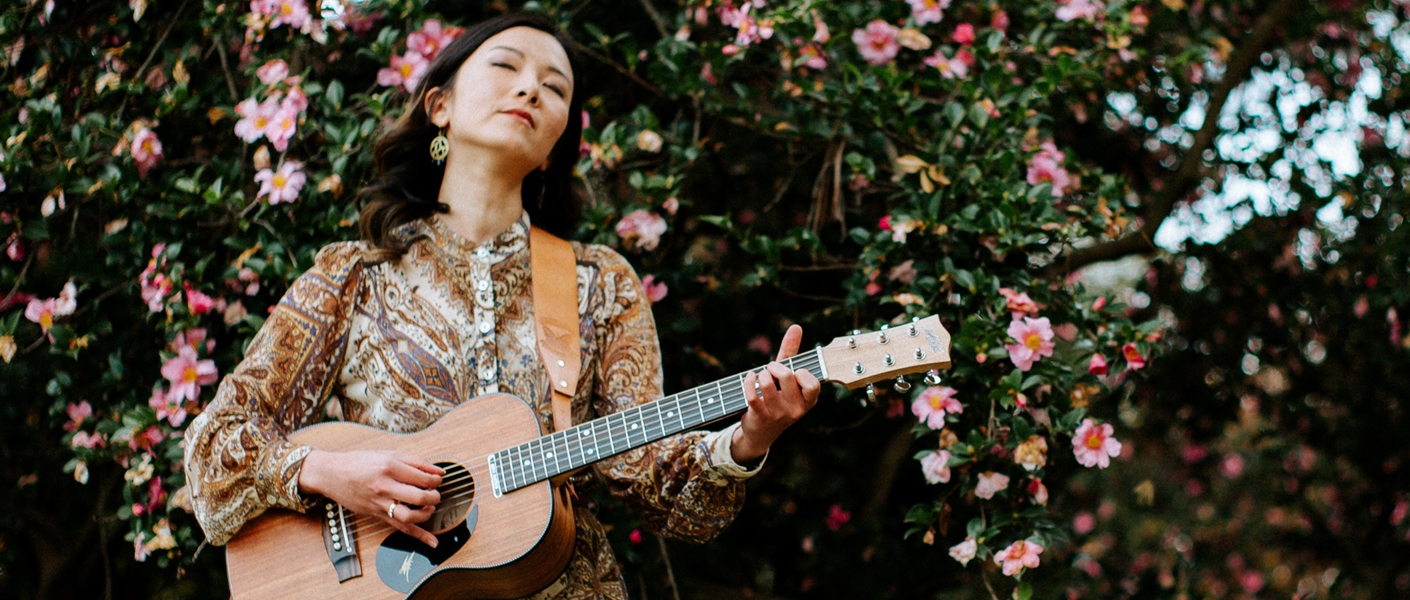 You are here
Live
Kim Yang: Brave EP Launch
Indie folk singer-songwriter Kim Yang and her debut 5-piece band invite you to the launch of Kim's 2nd EP, BRAVE, a project partly funded by ArtsACT. Featuring support from Canberra local legend Evan Buckley of The Burley Griffin, performing as a duo.
Taiwanese-Australian songstress Kim Yang writes songs that speak from her experiences as a partner, a daughter, a traveller and an insecure soul. Her ethereal blend of sounds balances delicately between vulnerability and power.
In 2020, Kim's bushfire tribute Garden of Eden was aired on triple J radio and received 4.5 stars from Roots 'n' All host, Nkechi Anele, who said: 'Kim Yang is a force of nature, and she humbles me'. Later that year Kim released her latest single 'Dominoes', which was premiered on triple J radio's Roots 'n' All.
Kim recently played a sold-out headline show at Good Folk 2021, and has also performed at the National Folk Festival 2019, Enlighten Festival, and the 2021 Stage88 Australia Day Concert alongside James Reyne, Daryl Braithwaite, Kingswood and Fanny Lumsden. In 2019 Kim went on tour for her debut EP 'Ocean of Mind' after a sold-out launch. She has supported ARIA & APRA-awarded artists Tori Forsyth, Josh Pyke and Ben Lee on their tours to Canberra.
Usually performing solo, Kim Yang puts together a 5-piece band for this launch. This is a rare opportunity to see Kim and the band bring her songs to life in a live set.
Band members:
Kim Yang – vocals, guitar, ukulele
Tabitha Hart – cello, vocals
Jonah Myers – keys, vocals
Matt Nightingale – bass
Naomi Smith – drums, percussion
"Kim's clear tones hit you from the very first note she sings. Her voice reminds me of the timbre of Eva Cassidy mixed with the breathiness of Sarah McLachlan. In a word, beautiful" — Ruth O'Brien, BMA Magazine
Social Media:
Website: www.kimyangmusic.com
Facebook: Kim Yang Music
Instagram: Kim Yang Music
Youtube: Kim Yang
Evan Buckley (The Burley Griffin) socials: https://linktr.ee/theburleygriffin
Evan Buckley will be performing as a duo. 
Read more:
Street One | Reserved | With COVID 19 restrictions being lifted Street One is now being sold at 100% Capacity.
As physical distancing will not be possible, patrons who feel uncomfortable may wish to reconsider their attendance.
While mask wearing is not mandatory in this setting the ACT GOVT is recommending mask wearing when in public indoor gatherings.
The CBR check in app must be used by all patrons on arrival.
Click here for more information on COVID 19 venue safety.
More information
The Street Presents
Kim Yang
Brave EP Launch
Friday 17 December 7:30PM
This live music program is supported by the ACT Government through their Amp it Up ! Initiative
Tickets
Standard: $30
Concession: $25