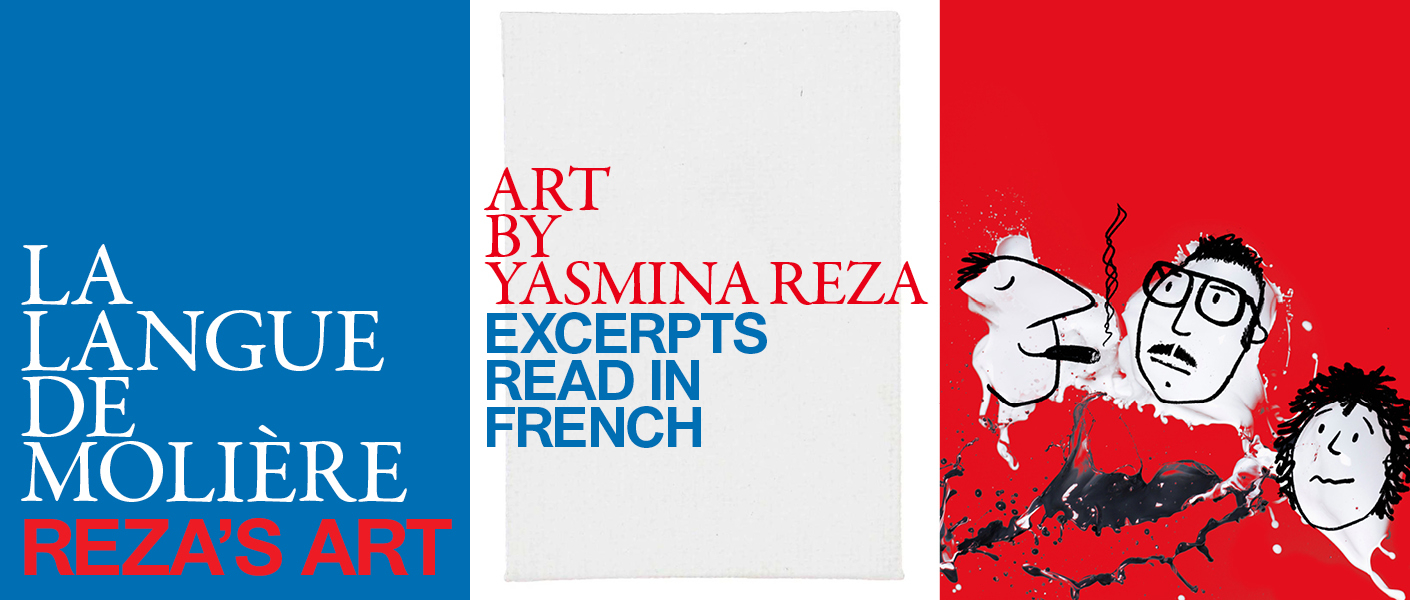 You are here
Live
La langue de Molière: Reza's Art
A selection of Art, the award-winning contemporary comedy classic about art and friendship, read in French - la langue de Molière. Lend your ears to the words of leading French playwright Yasmina Reza as first written and spoken in her native language, in a collaboration with Alliance Française Canberra and the ANU School of Literature, Languages and Linguistics.
With a talent for stripping pretence from human relations, Yasmina Reza paints her own canvas, penning Art to portray the fragile nature of art and friendship. Setting her play in Paris, Art revolves around three long-time friends, their different tastes and disagreements on the questionable purchase of an expensive and completely white painting that places their friendship in jeopardy.
The pre-show event is perfect for Francophiles and those interested in the adaptation of works from French through artful translations designed to preserve the playwright's meaning and intent and capture elusive, often cultural aspects, such as character, allegory and humour.
With excerpts read by Stéphanie Pouliquin, Louise Roudiere, Emmanuelle Dunn Lewis and Sophie Holloway
A free pre-show event. But RSVPs are essential
RSVP with your name and phone number for La langue de Molière: Reza's Art at RSVP@thestreet.org.au 
Stay on to experience the entire play translated in English by Christopher Hampton, the award-winning playwright, screenwriter and ace translator, well known for his play Les Liaisons Dangereuses and the film adaption Dangerous Liaisons. A runaway success around the world, Art is a side-splitting portrait of the meaning of art and friendship featuring a stellar cast and full of laughs.
For more info and Bookings for Art By Yasmina Reza
Translated by Christopher Hampton click here
Yasmina Reza
Born in France, the acclaimed French playwright, screenwriter and novelist, Yasmina Reza is best known for her plays Le Dieu du carnage (God of Carnage) and Art, with Art winning the triple crown in the theatre world – the French Molière award, the British Olivier award and the American Tony award. The powerhouse of European playwrighting winning six Molière awards, Reza wrote Art in 1994, first performed at Comédie des Champs-Élysées in Paris. The only contemporary French author whose theatre is performed around the world with 30 translations since first written.
Alliance Française Canberra
The Alliance Française de Canberra branch was created in 1944 and became a teaching center in 1950. At the Alliance, qualified native speakers trained in the latest teaching methods teach practical and modern French to adults, high school and university students, and children. The Alliance also promotes French culture through festivals, events, tastings and open days! 
ANU School of Literature, Languages and Linguistics
The School of Literature, Languages and Linguistics at the Australian National University is home to multiple, intersecting fields: English, screen studies, drama, creative writing, ancient and modern European languages and literatures, ancient history, gender and cultural studies, Indigenous languages, linguistics, applied linguistics and translation. The researchers in the School of Literature, Languages and Linguistics further knowledge, study and exchange in these areas across the globe.
More information
The Street Presents
A Pre-Show Event
La langue de Molière: Reza's Art
Friday 9 September,  6.15pm