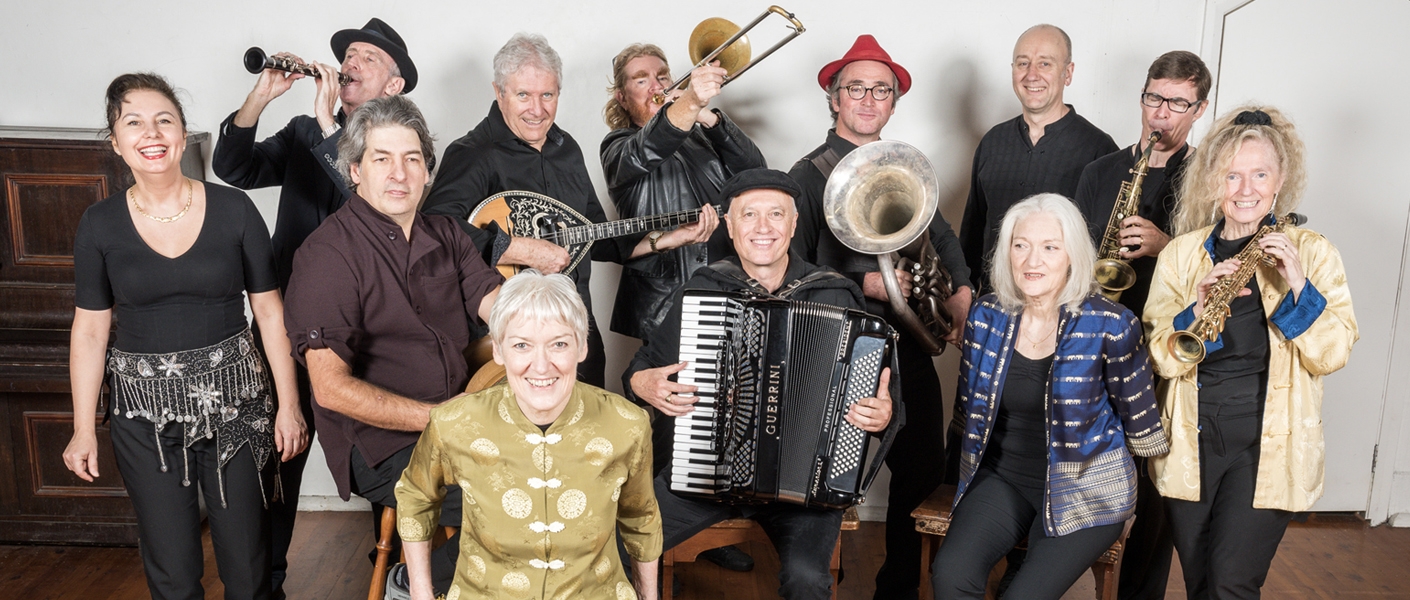 You are here
Live
The Mara! Big Band: Zashto?
The Mara! Big Band project is the fulfilment of a long held dream of Mara Kiek, to create a bigger, bolder version of her dual ARIA award winning Mara! band, featuring the cream of Australia's jazz and world music illuminati. To the Mara! band's all-star line-up (Sandy Evans, Paul Cutlan, Lloyd Swanton, Llew Kiek), Mara has added former member Andrew Robson plus James Greening, Sam Golding, Gary Daley, Tunji Beier and singers Silvia Entcheva and Jarnie Birmingham.
In 2020, with support from CreateNSW, Mara commissioned 5 current and former members of the Mara! Band to compose an original suite of music for this new ensemble. The new work is called "Zashto?" meaning "Why?" and features poetry and texts by Australian migrant and refugee women, expressing their stories of displacement, hope, longing, despair and resignation in their journey towards for a dream … a new life in the 'lucky country'.
The pandemic forced the project to be postponed in 2020, but the tour has been rescheduled to September 2021, with the Canberra premiere of the new suite "Zashto?" being presented at the Street Theatre .
"… a once in a lifetime gathering…"                  "… a killer line up…"
Read More: Zashto? - Thematic Content
Mara! Big Band line-up:
Mara Kiek - Voice and percussion
Llew Kiek - Bouzouki, bağlama, acoustic and electric guitars
Sandy Evans - Soprano and tenor saxophones
Paul Cutlan - Clarinets and saxophones
Lloyd Swanton - Double bass
Andrew Robson - Alto and baritone saxophones
Sam Golding - Trumpet, tuba
James Greening - Pocket trumpet, trombone
Gary Daley - Piano accordion
Tunji Beier - Drums and percussion
Silvia Entcheva - Voice (soprano)
Jarnie Birmingham - Voice (alto)
Socials:
Website: www.maramusic.com.au
Facebook: Mara Music
Instagram: maramusicaustralia
Street One | Reserved | ACT Health has granted The Street an exemption to go to 100% capacity.  
As physical distancing may not be possible at all times patrons who feel uncomfortable may wish to reconsider their attendance 
Check In CBR APP must be used by patrons on Arrival. Click here for more information on COVID 19 venue safety.
More information
The Street Presents
The Mara! Big Band
Zashto?
Sunday 26 September 7:00PM
Tickets
Standard: $42
Concession: $37
Student: $29