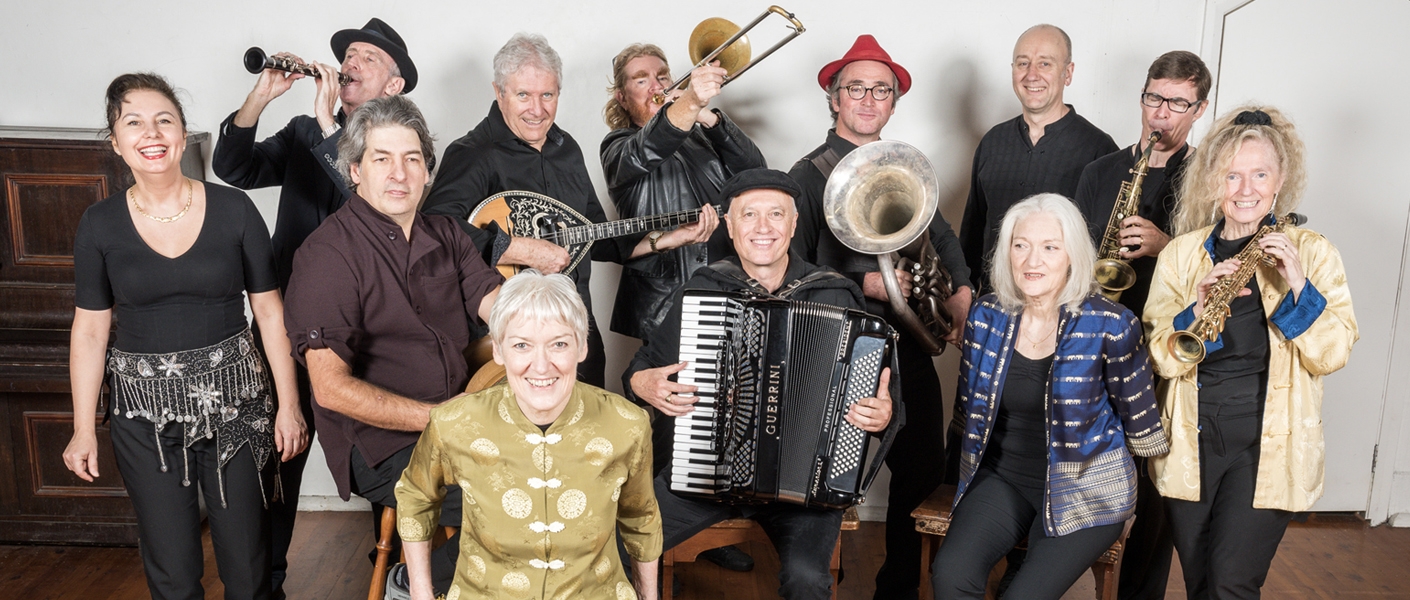 You are here
Live
The Mara! Big Band: Zashto?
POSTPONED : Due to a number of Mara Big Band members contracting COVID,  Zashto? is postponed. If you have purchased tickets, you will be contacted shortly by our Box Office with the new date.
The Mara! Big Band is a twelve-piece ensemble where Eastern European gypsy brass band meets jazz big band traditions. Featuring the cream of Australia's jazz and world music illuminati and a beguiling kaleidoscope of musical colours including brass, piano accordion, percussion and voice.
Premiering in 2022 Zashto?  [or "Why?" in Bulgarian] is an epic new 60-minute musical suite mixing the experience of migration to Australia and the spectre of incarceration (physical and psychological) that has hovered over each wave of migration in the past 230 years. 
The 'protagonists' are a young female convict who was arrested in Ireland at the age of 16 and transported in 1803, a Bulgarian migrant and an Iranian refugee. The libretto is drawn from poetry and texts written by or about them in their native languages (Irish Gaelic, Bulgarian and Farsi) giving a window into their experiences of displacement, hope, longing, despair and resignation in their struggle to forge a new life in this 'lucky country'.
The work was commissioned by Mara Kiek in 2020, with support from CreateNSW, and features compositions by current and former members of the Mara band – Sandy Evans, Paul Cutlan, Andrew robson, Tony Gorman, and Llew Kiek.  
An intricate, surprising  and compelling musical response to the deprivation of liberty that has been a recurring feature of migration experiences throughout Australia's social and political history.
Read More: Zashto? - Thematic Content
Mara! Big Band line-up:
Mara Kiek – Voice and percussion
Llew Kiek – Bouzouki, bağlama, acoustic and electric guitars
Sandy Evans – Soprano and tenor saxophones
Paul Cutlan – Clarinets and saxophones
Lloyd Swanton – Double bass
Andrew Robson – Alto and baritone saxophones
Sam Golding – Trumpet, tuba, woodwinds
James Greening – Pocket trumpet, trombone
Gary Daley – Piano accordion
Jess Ciampa – Drums and percussion
Jenny Dornan – Voice (soprano)
Jarnie Birmingham – Voice (alto)
Socials:
Website: www.maramusic.com.au
Facebook: Mara Music
Instagram: maramusicaustralia
Street One | Reserved | With COVID 19 restrictions being lifted Street One is now being sold at 100% Capacity.
As physical distancing will not be possible, patrons who feel uncomfortable may wish to reconsider their attendance.
As of 6pm Friday 25 February masks are not mandatory at indoor live performance venues. Should you require a mask, one can be picked up at the box office.
Click here for more information on COVID 19 venue safety.
More information
The Street Presents
The Mara! Big Band
Zashto?
Sunday 20 March 7:00PM
This live music program is supported by the ACT Government through their Amp it Up ! Initiative
Tickets
Standard: $42
Concession: $37
Student: $29