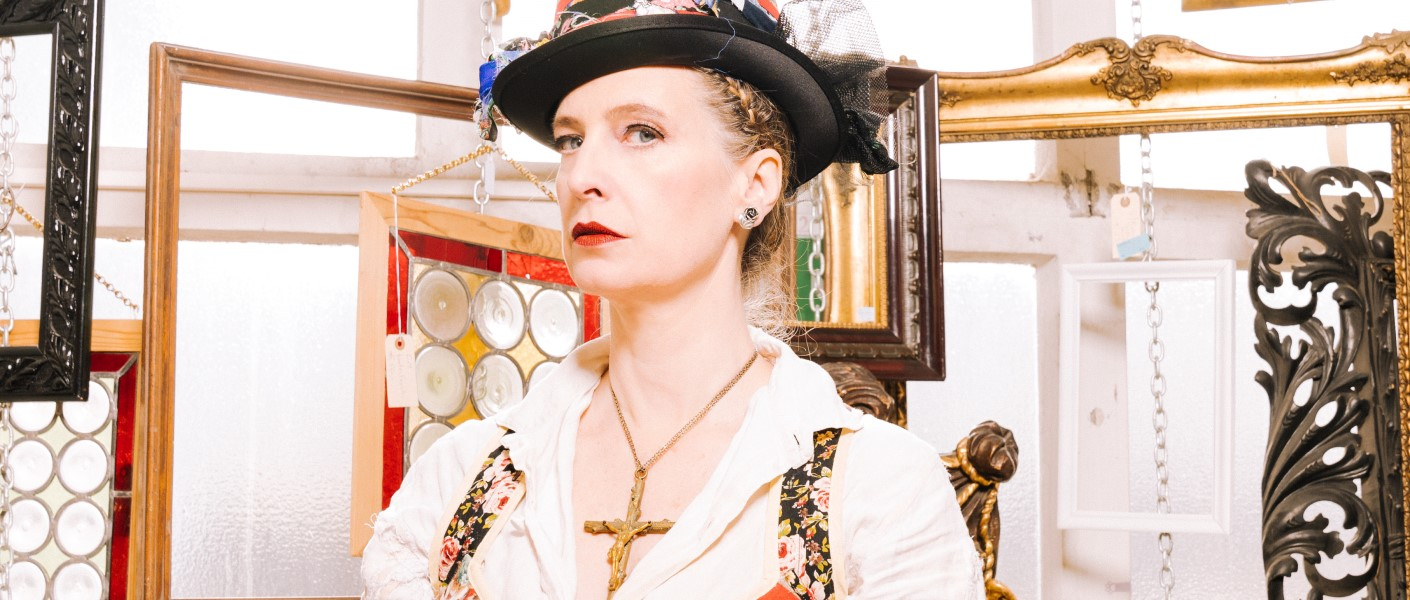 You are here
Live
Mariedl, Selfies with a Giantess
by Penny Black 
Austro-Australian actor Maxi Blaha (Soul of Fire, Beloved Muse) makes her long awaited return to Canberra with her new play and the English premiere production of Selfies with a Giantess, in which she steps into the extraordinary life of one of the tallest women ever seen Tyrolean Maria Fassnauer (Mariedl). 
Discovered in a small village in the Tyrol Alps by a man who was to become her manager she spent six years crossing Europe with her sister Rosa to be exhibited in theatres, at the Brussels World Fair, in many a German panoptikum, then the Hippodromes of London and Manchester. It was here that Clive Darril from Wagga Wagga, Australia, made his infamous marriage proposal in front of the press, which she turned down. She had sponsorship deals, met royalty, made a huge sum of money which she gave to her parents and a variety of charities; but behind it all was a shy religious woman who had to work hard, standing for hours posing and then selling postcards of herself.
Written by renowned UK-based playwright Penny Black and accompanied by Swiss harpist Ursula Fatton presented is a cornucopia of stage tableaus, illusion and monetisation rooted in the very human fascination with anatomical difference. 
Mariedl is played by acclaimed Austrian actor Maxi Blaha a longtime company Member at the Vienna Burgtheater with lead engagements at the theatres of Coburg, Tuebingen, Vienna, and Linz. Her English solo works have played renowned festivals and theatres in New York, London, Paris, Sydney, Auckland, Teheran, Rome, Oslo, and Tokyo. In 2021 Blaha shot the film adaption of Arthur Miller's "The Performance" directed by Shira Piven alongside Robert Carlyle and Jeremy Piven and she is currently working on the latest TATORT crime series.  
In 2023 the staging of the human body, as well as its marketing by means of likes, followers and self-images exaggerated ad infinitum, is more topical than ever. As the life of Maria Fassnauer reveals, however, capital could always be made from exceptional bodies. Even back then, what one saw did not always correspond to reality.
Come, marvel, be amazed as the Tyrolean Giantess meets the 21st century gaze.
Starring MAXI BLAHA  
with Ursula FATTON (Harp)
Writer: Penny Black (based on an idea by Sophie Reyer)
Director: Angelika Zacek 
Costume Designer: Julia Klug
Dramaturge: Verena Humer
Read More: Riotact (May) | Riotact (Nov) | The Canberra Times | Australian Arts Review | Kurier
Lend an Ear: Living Arts Canberra
Street Two | Unreserved | Duration 75 Minutes
Click here for information on COVID 19 venue safety.
More information
The Street Presents
Mariedl, Selfies with a Giantess
by Penny Black 
Saturday 25 November, 7:30pm
Sunday 26 November, 4pm
Tickets
Standard: $38
Concession: $35
Student: $32