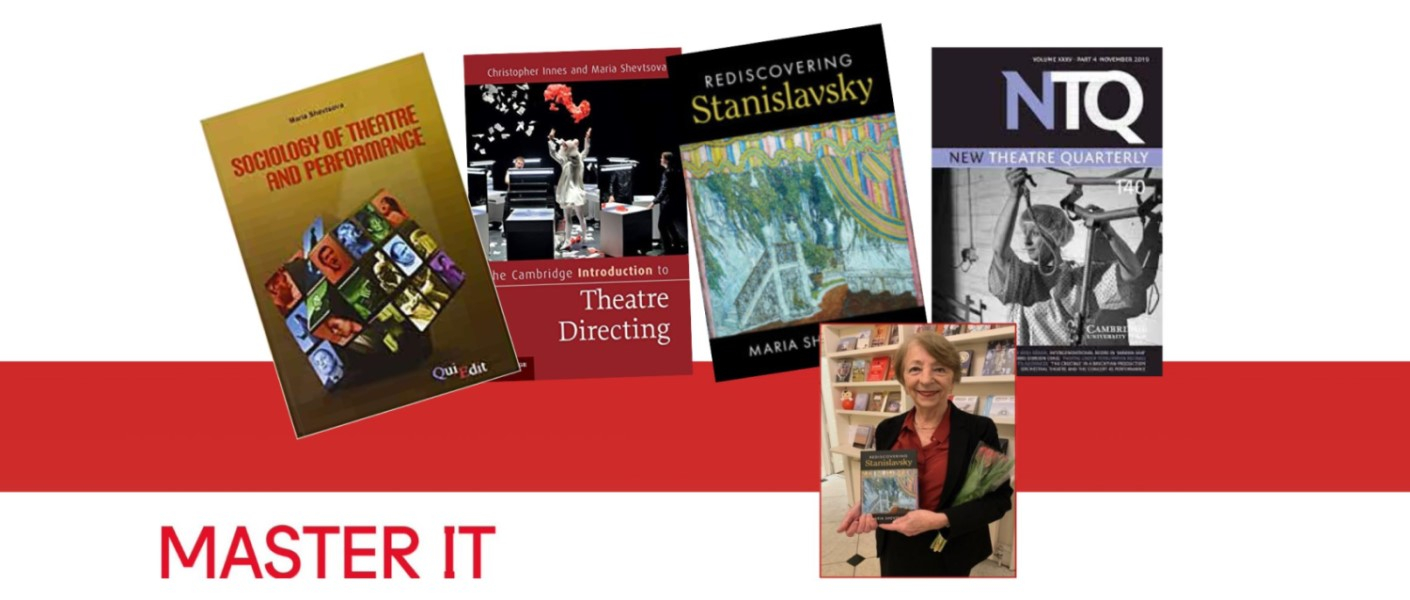 You are here
Live
Master-It with Maria Shevtsova
Maria Shevtsova, an indefatigable polymath of current Western theater practice, is perhaps the world's foremost chronicler of contemporary avant- garde stage directors … Maria Shevtsova's extraordinary Rediscovering Stanislavsky has come along at the right time. David Chambers
Theatre Directors | What They Do and Why and How They Do It
Be inspired by one of theatre's leading minds, Professor Maria Shevtsova; international expert on Stanislavsky and specialist in European directors of the 20th and 21st Century as she leads us in a mini-series of seminar-salon style conversations on directing in the 21st century. 
This mini-series of essential conversations takes an exploratory, cumulative approach to Direction in the 21st Century. Issues concerning directing will appear and reappear differently across the seminar-salons as examples of directorial practices, views, and artistic aspirations come together – yours as well as from the wider world.  
Sessions 1 & 2: Rediscovering Stanislavski
The growing picture starts with Stanislavsky, founder of the modern director and the serious art and profession of directing. He was also the active champion of the free, creative actor who, in his words, is not a puppet or a dependent but a co-author of theatre work, whether spoken, sung (not least opera) danced, or otherwise performed. References to Stanislavsky's contemporaries, notably Meyerhold as a 'director's director', open out the discussion to prominent directors today whose role in the expansion of what the very idea of 'theatre' might mean, including in contextual social terms, needs to be better understood.
The sessions aim to provide material of practical use and inspiration for anyone directing for the stage.
Please note places are limited and attendance at BOTH sessions is required.
Session 1: Which Stanislavski? – Actors and Studios: Monday 3rd April / 2-5pm 
Session 2: Director and Directing: Tuesday 18th April / 2-5pm
Maria Shevtsova's book is astonishing. Her views on Russian theatre and on European theatre in general, and on Stanislavsky in particular, are always fascinating. But in her latest book she has surpassed herself. Professor Shevtsova gives a breathtaking account and elucidations of so many aspects of Stanislavsky's work, which are so often imprisoned in theories caged in other theories, or are simply not understood. Others are just not known. To hear about the transgressive aspects of his philosophy is invigorating. Professor Shevtsova's comprehensive coverage of his work manages both to locate him in the context of his times while also liberating his spirit so that he can be appreciated in his epic universality. A tour de force. Declan Donnellan
Who's this for?
Directors and emerging directors.
RSVP
Email rsvp@thestreet.org.au to register a place and if we don't have your directing CV on file, please use this as an opportunity to send your latest Directing CV or Bio (regardless of whether your directing experience is limited to directing scenes or internationally expansive!)  as this up-to-date info is great for us to get a sense of you. 
Maria Shevtsova's Biography
Maria Shevtsova is co-editor of leading theatre journal NTQ [Cambridge University Press ]a vital international forum where theatrical scholarship and practice meet and currently Professor of Drama and Theatre Arts at Goldsmiths, University of London. She is renowned internationally for her teaching and research on Russian theatre, past and present, contemporary European theatre, and the interdisciplinary theories and methodologies of the sociology of theatre.
 
She has given keynote addresses in universities and other cultural institutions, including in France, Italy, the UK, Germany, Russia, Poland, Romania, Chile, and China, and public speeches and jury service at major international theatre festivals. Her recent books include Rediscovering Stanislavsky (Cambridge University Press); Robert Wilson, The Cambridge Introduction to Theatre Directing (co-authored); Directors/Directing: Conversations on Theatre; Sociology of Theatre and Performance; Fifty Key Theatre Directors (co-edited) and Dodin and the Maly Drama Theatre: Process to Performance. She is the author of over 150 articles and her work has been translated into 15 languages.
More information
You MUST RSVP for this master class, places are limited.
You MUST be able to attend both session for the master class.