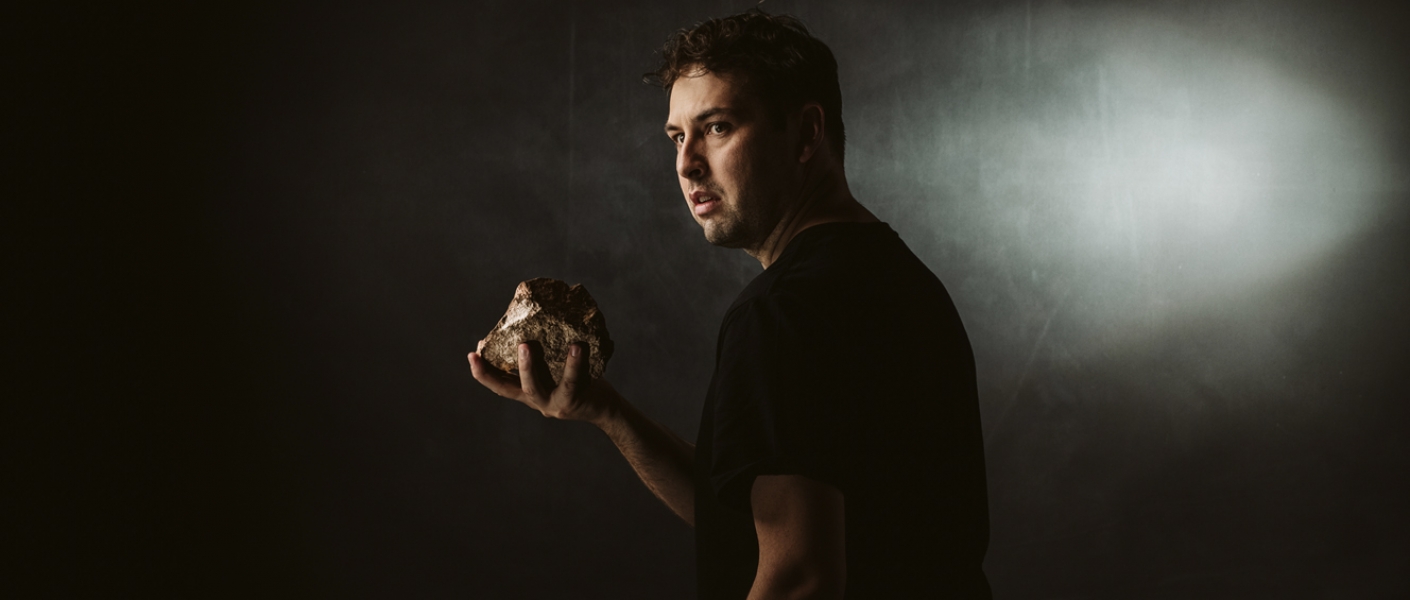 You are here
Live
Milk: By Dylan Van Den Berg
Like a smack in the face.  That's how I'd describe it.
On the precipice of something life changing, a young Palawa man plunges into an exploration of self and Country. 
Carried with the winds of a metaphysical Flinders Island, the land of his mob and the place where it all happened, he is drawn back to the dawn of colonization.  To a woman who bore the brunt of the oppressors' violence and then forward to her granddaughter, who buried the truth as a means of survival. Stirring up stories together, with parts both  achingly sad and unexpectedly funny, what unfolds reveals by slow degrees painful but important truths.
Canberra-based writer Dylan Van Den Berg, winner of the 2021 Nick Enright Prize for Playwriting at the NSW Premiers Literary Awards, brings to the stage the uneasy personal process of reconciliation. What are the complexities of aligning yourself with Indigenous legacies of resilience when you are also related to their oppressors? Does the passage of time undermine connection to Country?
Starring award-winning Mandandanjii & Darambal woman Roxanne McDonald [Parramatta Girls, Mabo] and Murriwarri & Yuggerah woman Katie Beckett [Redfern Now, Sunshine Girl, Which Way Home] with  Dylan Van Den Berg  Milk is a story of longing, of connection and the ghosts of the past.
Featuring
Character A: Roxanne McDonald 
Character B: Katie Beckett 
Character C: Dylan Van Den Berg 
Creatives
Direction: Ginny Savage 
Set & Costume Design: Imogen Keen 
Lighting Design: Gerry Corcoran 
Sound Design: Peter Bailey
Cultural Consultant:  Gaye Doolan
A Street Produced Contemporary Theatre Production 
Street One | Reserved | ACT Health has granted The Street an exemption to go to 100% capacity.  
As physical distancing may not be possible at all times patrons who feel uncomfortable may wish to reconsider their attendance 
Check In CBR APP must be used by patrons on Arrival. Click here for more information on COVID 19 venue safety.
Read More: The Canberra Times | Canberra Weekly | Canberra City News | The RiotACT
Lend an Ear: LivingArts Canberra | National Theatre of Parramatta
WARNINGS
This performance contains adult content and references to cultural genocide, intimate violence, racial abuse and trauma, and suicide. Recommendation 15+. 
If you or someone you know needs information or support, Beyond Blue and Wellmob has a list of resources and organisations that are there to help.
More information
The Street Presents
Milk by Dylan Van Den Berg
Thursday 3 June (Preview) - Saturday 12 June
There will be a Q&A held after the Sunday 6th 4pm show with the Cast and the Creative Team. 
There will be a Q&A held after the Thusday 10th 7:30pm show with Playwright Dylan Van Den Berg faciltated by Artistic Director/CEO
Tickets
Standard: $45.00
Concession: $42.00 
Group 4+: $39.00 
Student: $35.00
Mid- Week Special (Wed 9 & Thurs 10): $37.00
Preview: $32.00