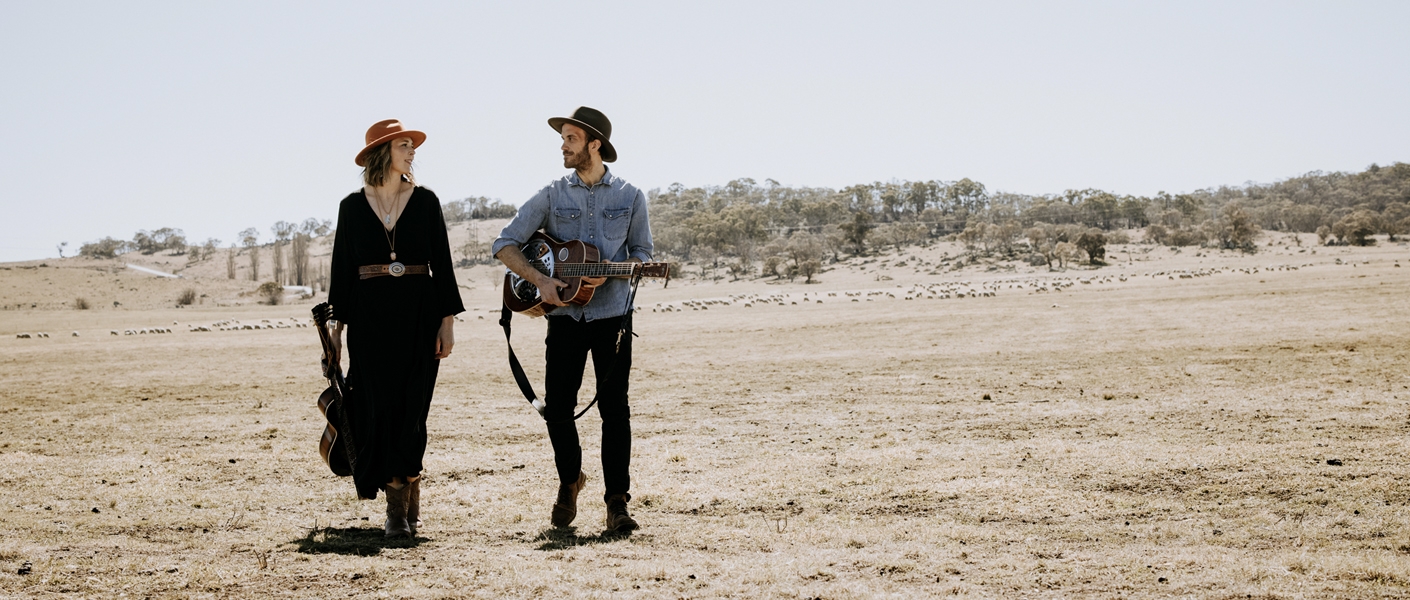 You are here
Live
Montgomery Church: Where The Quiet Can Hide - Album Tour
*Montgomery Church has recived two nominations for the 2022 Golden Guitar Awards to be held at the 50th Tamworth Country Music Festival in January*
"Montgomery Church make a rare kind of hill country magic: spinning gossamer tapestries with timeless acoustic sounds, quicksilver vocal harmonies, and the kind of unassuming storytelling that burrows deep into the subconscious" - Gareth Hipwell (Country Update Magazine)
 
Cielle Montgomery and James Church are Montgomery Church - a blend of acoustic folk, Americana and bluegrass influences, grown and distilled in the Snowy Mountain ranges of country New South Wales.  With their organic union of dobro and guitar, harmony vocals and thoughtful songwriting, this captivating duo, accompanied by their band, are enthralling in their dynamic intimacy and offer up some of the sweetest acoustic sounds being heard around Australia's folk country scene right now.  They have graced the stages of many iconic music festivals including Nannup Music Festival, Queenscliff Music Festival, Woodford Folk Festival, National Folk Festival & Americanafest in Nashville.
 
Montgomery Church's debut album, In the Shadow of the Mountain, earned them two nominations in the prestigious 2019 Golden Guitar Awards.  The duo recently teamed up with 7 x GRAMMY nominated Producer & Engineer, Erick Jaskowiak (Crooked Still, I'm With Her, Darrell Scott) to record their highly anticipated follow-up, Where The Quiet Can Hide, and are thrilled to be celebrating its release at The Street Theatre this September.
"…Montgomery Church are like the Australian version of Gillian Welch and Dave Rawlings, but if Gillian was the daughter of Allison Krauss... sitting on a porch, with tea not whiskey... I'm a tad obsessed... The most graceful duo literally gracing stages right now …" - Fanny Lumsden (Golden Guitar & ARIA Award Winner).
Socials - Montgomery Church
https://montgomerychurch.com.au/
Socials - Charlie & Jensen
Montgomery Church will be supported on tour by Charlie & Jensen 
Street One | Reserved | With COVID 19 restrictions being lifted Street One is now being sold at 100% Capacity.
As physical distancing will not be possible, patrons who feel uncomfortable may wish to reconsider their attendance.
In Line with ACT health guidelines, you must wear a mask inside the theatre & foyer.
Drinking inside? Take a seat. Due to ACT Health regulations, you must be seated while enjoying beverages and food from the bar.
The CBR check in app must be used by all patrons on arrival.
Click here for more information on COVID 19 venue safety.
More information
The Street Presents
Montgomery Church
Where The Quiet Can Hide - Album Tour
Friday 11 February 7:30pm
This live music program is supported by the ACT Government through their Amp it Up ! Initiative
Tickets:
Standard $32
Concession $27