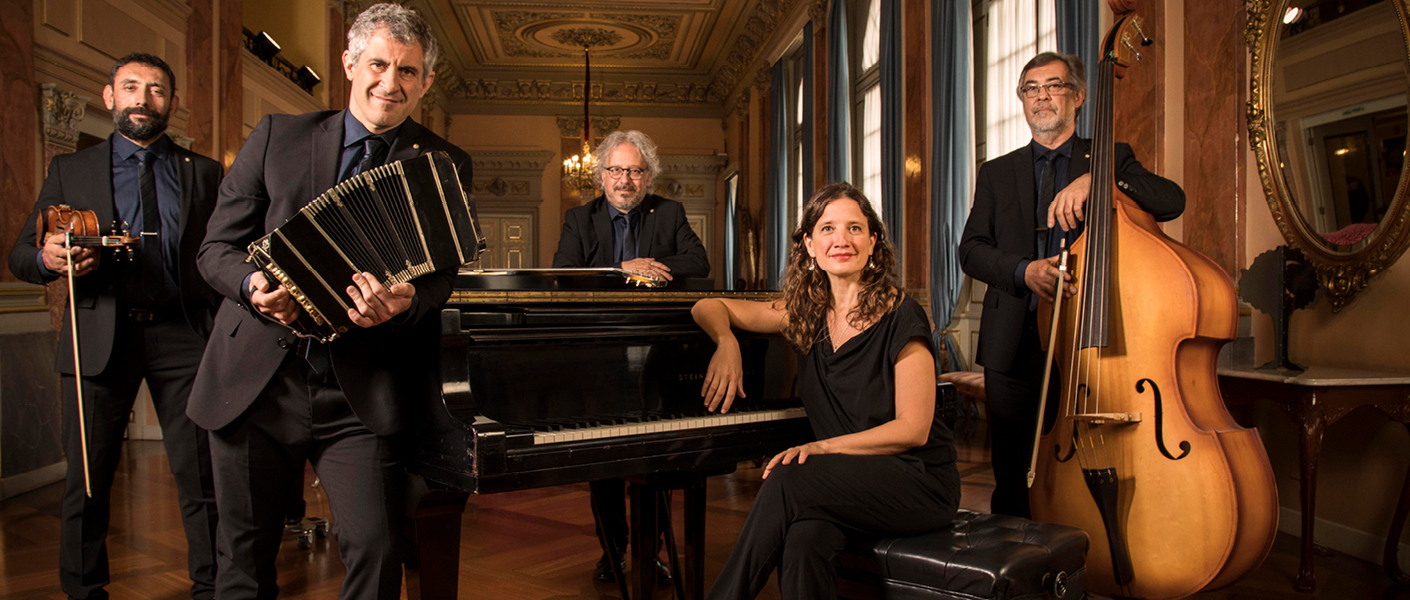 You are here
Live
Quinteto Astor Piazzolla
Latin Grammy-winning ensemble pays tribute to the man who revolutionised tango music forever. 
For over 20 years now, the five virtuoso soloists that make up Quinteto Astor Piazzolla have been touring the globe, sharing the distinctive sound and vast repertoire of the legendary Argentinean composer Astor Piazzolla, creator of the 'new tango' style.
A virtuoso bandoneonist, Piazzolla's music is a mix of traditional tango, classical, jazz, and popular music, such as Neapolitan songs and klezmer. His Tango Nuevo attracted admirers and collaborators from distant regions of the music universe, including classical luminaries such as Yo-Yo Ma, Gidon Kremer, and the Kronos Quartet; jazz masters such as Gil Evans and Al DiMeola, and even dance music diva Grace Jones, who turned one of his pieces into the club hit.
Modeled on his sensational 60's quintet, his wife, Laura Escalada Piazzolla, founded the ensemble after the composers passing, with the mission to protect and promote the maestro's rich musical legacy. 
Do not miss this extraordinary opportunity to hear the pure and visionary sound of Piazzolla performed by these outstanding Argentinean masters of the new tango style. 
Winner of the 2019 Latin GRAMMY ® for Best Tango Album for Revolucionario.
Quinteto Astor Piazzolla 
Pablo Mainetti (bandoneon)
Bárbara Varassi Pega (piano)
Serdar Geldymuradov (violin)
Armando de la Vega (guitar)
Daniel Falasca (double bass)
Socials
Website
Photo Credit: Mauricio Velez
Read More: City News | Limelight Review
Street One | Reserved | Duration 75 Minutes
Click here for information on COVID 19 venue safety.
Music @ The Street / Quinteto Astor Piazzolla from The Street Theatre on Vimeo.
More information
The Street in association with PuraVida Roadshow Presents 
Quinteto Astor Piazzolla 
Wednesday 15 March, 7:30pm
Tickets
Standard: $59
Concession: $54
Group 4+: $49