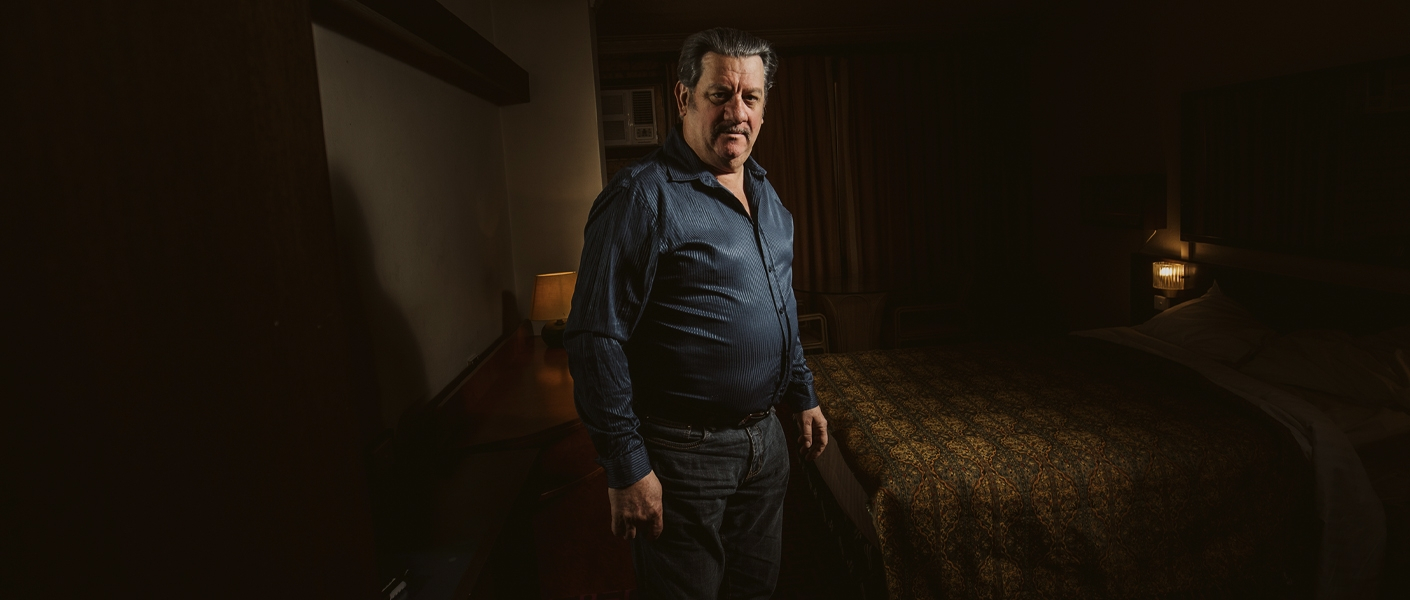 You are here
Live
Twenty Minutes With The Devil: by Luis Gómez Romero & Desmond Manderson
"You see, my friend, I am just a humble businessman with a knack for success and no tolerance for failure."
Half an hour alone with your worst fears and wildest dreams. No help, no witnesses, and not a minute to lose. When the crisis comes – what would you do?
On a lonely desert road in the dead of night, highway police Angela and Romulo are a team - sort of. Romulo is a shambles. Angela's all business. But then they stop a speeding car and discover a man stripped to his undershirt and covered in filth. 
Part thriller, part black comedy, this play is inspired by events leading to the capture of El Chapo, Mexico's most notorious drug lord, in 2016. But Twenty Minutes With The Devil transcends its original context, opening instead onto a world that is everywhere and nowhere, in an idiom at once strange and familiar. It asks vital questions about law, politics, and justice in the modern world. About the lives and decisions out of our control that seem to hold us all hostage. And the patterns that entrap us in other ways parents and children, myths and beliefs, childhood memories and fantasies of escape.
The fruit of a remarkable collaboration between two writers from very different cultures, here is a fable for the world we live in: a work which takes real problems in the world around us and gives them a vivid imaginative life. By turns suspenseful and reflective, witty, gritty, and poetic, Twenty Minutes With The Devil will grab you by the throat from the very first moment and demand that you, too, make a choice before time runs out.
Live or die, stay or go, trust or betray: we're all looking for a way out of the locked room of the modern world.
Starring PJ Williams,  Joanna Richards and Raoul Craemer
 
Direction: Caroline Stacey
Design: Imogen Keen
Lighting Design: Antony Hateley
Sound Design: James Tighe
A Street Produced Professional Theatre Production
Read Reviews: Canberra City News | Australian Arts Review | Canberra Critics Circle | The Canberra Times | Stage Whispers
Read More: BMA | Canberra City News | ANU College of Law 2022 | ANU College of Law 2021 |  ACT Writers | The RiotACT | Canberra Weekly | The Canberra Times | Riotact | ArtsHub
Street Talk: Luis Gómez Romero | Antony Hateley
Lend an Ear: Living Arts Canberra | ArtSound - PJ Williams | Artsound - Raoul Craemer | SBS Radio | Radio National - The Drawing Room 
Street Talk Zoom Conversations: Luis Gómez Romero and Desmond Manderson in Conversation with Nigel Featherstone
Street One | Reserved | Duration 2hrs 25mins including interval
Click here for information on COVID 19 venue safety.
---
The Crisis of Justice in the Modern World  
Discussion and Q&A session 
Thursday 23rd of June at 6.15-7.15pm  
Join us for a facilitated discussion led by playwright Desmond Manderson as he talks with panel members about the crisis of justice and politics in the modern world.  
Covering topics such as harm reduction, global drug wars, social inequity, corruption and gender and violence -  we invite you to be part of this stimulating conversation and hear how these thought provoking themes are woven in and amongst the thrilling fable of Twenty Minutes With The Devil.  
"These issues are not removed from us, but something that is happening here too." Des Manderson 
Panelists: Playwrights, Desmond Manderson & Luis Gómez Romero; Independent journalist, author, filmmaker Antony Loewenstein
RSVP with your phone number for the event at RSVP@thestreet.org.au
---
Twenty Minutes With The Devil Playwrights and Director in Conversation
Pre-show 3pm Sunday 19 June  
 
Join us for a conversation between Director Caroline Stacey and playwrights Desmond Manderson and Luis Gómez Romero as they delve into the development and production of a new Australian play produced by The Street creating connections between law and justice and the arts. We invite you to find out more about how this gripping tale of the global crisis of justice and its characters are brought to life on stage.  
RSVP with your phone number for the Meet the Makers Q&A at RSVP@thestreet.org.au
More information
The Street Presents
Twenty Minutes With The Devil
Saturday 18 June - Saturday 25 June
Friday 17 June(Preview)
Tickets
Standard: $45.00
Concession: $42.00 
Group 4+: $39.00 
Student: $35.00
Mid- Week Special (Tues 21, Wed 22 & Thurs 23): $37.00
Content Advice: Contains coarse language and loud noises, recommended 15+
Warnings: Strobe effects used.