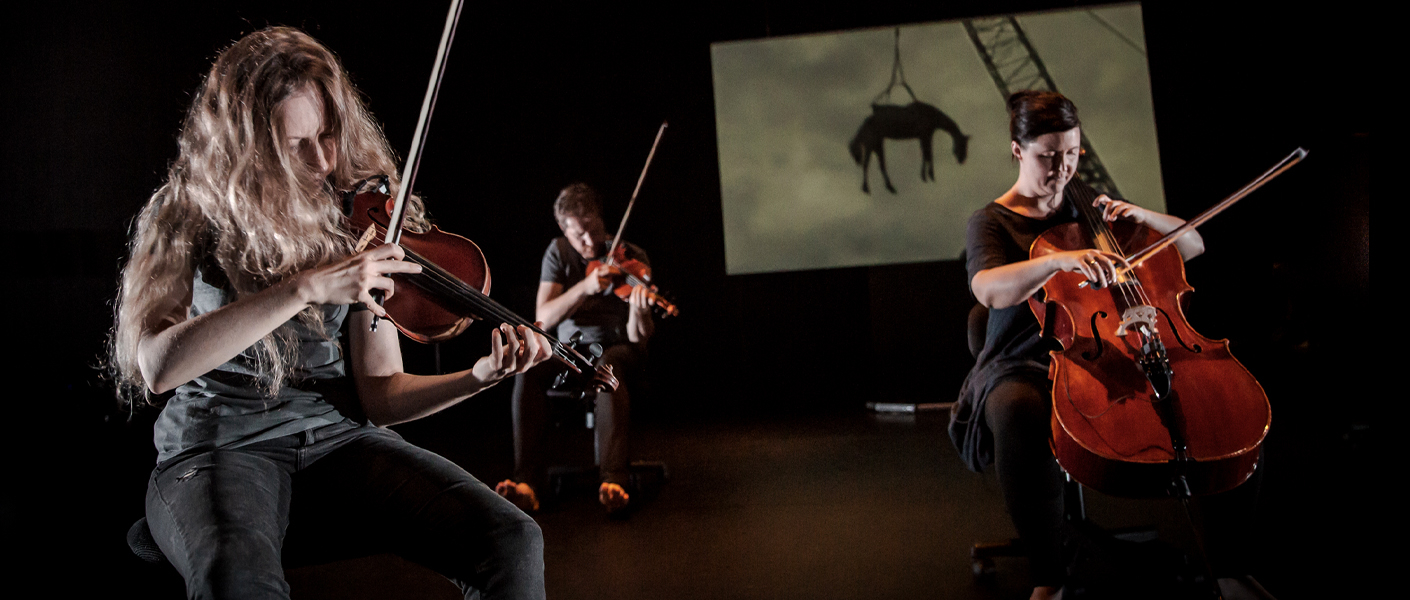 You are here
Live
While You Sleep
Tickets on sale General Public Monday 29 November 11am
An aural and visual excursion into both the musical fugue and the psychological 'fugue state', While You Sleep unites string quartet, piano, electronics, video and animation in a surreal counterpoint of music, movement and image where nothing is quite as it seems. The inherent contradiction and tension between these two very different possibilities is at the heart of this work, as is an exploration of the selective truth of memory, and the compelling possibilities of delusion.
Hand-drawn animation, live action, video and stop-motion are choreographed alongside the musicians on the stage. Pianist Jacob Abela, violinists Isabel Hede and Zachary Johnston, violist Phoebe Green and cellist David Moran are set in motion so that they trace intricate tracks and lines of flight across the stage on foot and on wheeled chairs. The music is memorised, and the performers engage and interact with three large screens, reversing, whizzing, spinning, emerging and disappearing between live performative elements and animated/visual content.
Exploring flight, escape, memory and dissociation, While You Sleep is both contra­ puntal experiment and escape from the present. Embracing the elaborate complexi­ ty of the musical fugue - where a phrase is introduced by one instrument and then taken up by others - the work weaves gesture, design, light and immersive visuals. Hand-drawn animation, live action, video and stop-motion are choreographed alongside the musicians on the stage. Alluding to experiences that prompt the fugue state's loss of self, While You Sleep dives into memory, uncertainty and our own delicate, repeated patterns of behaviour. Dark, subtle, surprising and moving, While You Sleep deftly probes the uncertain landscapes between grief and identity, reality and illusion.
Creative Directors:
Sal Cooper, Kate Neal
Music:
Kate Neal
Screen-Based Media:
Sal Cooper
String Quartet:
Zachary Johnston
Isabel Hede
Phoebe Green
David Moran
Piano: Jacob Abela
Director: Daniel Schlusser
Websites:
CIMF | TURA | Kate Neal | Sal Cooper
Street One | Reserved | With COVID 19 restrictions being lifted Street One is now being sold at 100% Capacity.
As physical distancing will not be possible, patrons who feel uncomfortable may wish to reconsider their attendance.
While mask wearing is not mandatory in this setting the ACT GOVT is recommending mask wearing when in public indoor gatherings.
The CBR check in app must be used by all patrons on arrival.
Click here for more information on COVID 19 venue safety.
More information
Canberra International Music Festival
The Street & Tura Presents
While You Sleep
Friday 29th April, 7:30pm
Saturday 30th April, 7:30pm
Standard: $50.00 
Concession: $45.00 
CIMF Members: $42.00 
Students: $30.00